Two days after the General and Regional Elections were held, the attendance at schools is at its minimum. Guyana Times visited several schools across the city and attendance was significantly low as parents and guardians remain in heightened fear of post-election issues.
Speaking with this publication, Principal of the St Joseph High School, Nathram Raghubensi, said that there is poor attendance. The Principal further explained that some of the students attending St Joseph High come from as far as Bartica and Berbice.
"Our attendance as of today (Wednesday) is very poor, and it is due to the elections result that is not yet out," he said.
At Queen's College, Stella Marris Primary and Richard Ismael Secondary, teachers all said that attendance was "terrible".
A teacher from St Joseph High also said that school attendance was extremely low.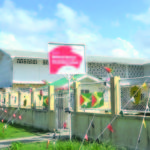 On Tuesday, students of Houston Secondary on the East Bank of Demerara (EBD) were sent home early because of the tense atmosphere in the city over the verification of Statements of Polls.
When contacted, Education Ministry Public Relations Officer (PRO) Murtland Haley seemed very much surprised to have heard that students were sent home.
"I am not aware that any schools were closed or students were sent home, so I can't comment to say why. We will be investigating that," he said.
Meanwhile, in the commercial zone around Georgetown, employees of the few businesses that opened told this publication that they were sent home early from work as a result of the tension over the declaration of the result.
On Tuesday, the city of Georgetown was reduced to almost a ghost town as the country awaits the official declaration of results by the Guyana Elections Commission (GECOM).
Though Tuesday was not a holiday, businesses remained closed as the commercial district was at a standstill.
When this publication visited several parts of the business hub, a few persons were seen walking in the desolate streets.
Meanwhile, on Tuesday at the Private Sector Commission's press conference, Chairman of the Private Sector Commission, Gerry Gouveia, advised that persons be patient and wait on the official declaration of results by GECOM.
"We have seen that statements claiming victory. We support the call for the respect that we all should be patient and wait on the official declaration of results at the Returning Officer's level and the final results at the level of GECOM".
Gouveia further added that they were surprised that businesses and schools were not open on Tuesday since they [the Private Sector Commission] did not ask for Tuesday or Wednesday to be a public holiday.

"The Private Sector Commission called for Monday the 2nd to be declared a holiday. We were very pleased that the Government responded to our call and declared it a holiday. We did not ask for Tuesday to be a holiday because we did not think it would be necessary and so we were quite surprised with the level of apprehension by the business community was widespread," the Chairman explained.
General and Regional Elections were held on Monday. Over 600,000 eligible voters went to polls to elect a new government.